On May 20th, 2016 the Polk County Sheriff's Office had six new reserve deputies graduate from the Mid Valley Reserve Training (MVRT) Program.  The MVRT academy concluded its 7 month long reserve academy by graduating 22 volunteer reserve officers and deputies from 10 different agencies throughout the Willamette Valley.  The participating agencies include the Marion, Yamhill, Benton and Polk County Sheriff's Offices and the Dallas, Keizer, Lebanon, McMinville and Yamhill Police Departments.  During this academy, reserve deputies volunteered their time to receive over 325 hours of Law Enforcement training that is very similar to what a full time deputy would receive at the Department of Public Safety Standards and Training (DPSST) in Salem.   "Some reserves use this program to gain experience to get hired as a full time deputy and some use it to volunteer within their community.  Regardless of their intent, both avenues show a commitment to this profession and to their community", Sheriff Mark Garton said.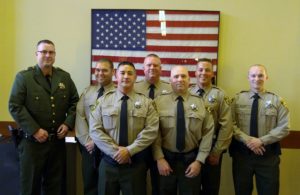 MVRT was formed in 2007 during an effort to combine resources from participating agencies so those agencies could have a centralized and more efficient way to train their reserve deputies or officers.  The Polk County Sheriff's Office has utilized MVRT since its creation as we have found it to be a very well organized program and it provides the reserves with the needed skills to do the job. Polk County reserve deputies dedicate many volunteer hours every week and the Sheriff's Office would not be able to complete as many tasks in the community without them.
Immediately following the graduation Sheriff Garton swore in the six new reserve deputies, which brings the total number of reserve deputies to 13. The number of reserves in our program has been higher in the past, but with the passage of the public safety levy several were hired for corrections or patrol deputy positions.  "Not everyone is able to serve their community in this way and I would like to thank all of the reserves for sacrificing time with their family to serve Polk County as a reserve deputy sheriff", Sheriff Mark Garton said.
.